THE FIFTH CROW FARM TEAM
*
Meet the Farm Owners
Fifth Crow is owned by three partners: John Vars, Mike Irving, and Teresa Kurtak. Though we are pretty young for farmers, each of us has over a decade of farming experience. The three of us met at and are graduates of the UCSC Farm & Garden program.
Mike Irving has 15 years of agricultural experience.  He graduated from the University of Massachusetts in Amherst in 2000 with a dual degree in Pre-Med and History. Almost immediately after graduation, a curiosity about gaining practical skills outside of academia led him to a farm in Vermont – Farm and Wilderness – where he interned as a farmer and farm educator of summer campers between the ages of 9 and 14.  The experience opened his eyes to a new passion in life – creating something real and beautiful with his hands in the soil and in concert with the nuances of the natural world, and then sharing those skills and knowledge with youth and adults alike.  In 2002 and 2003 Mike went on to study and teach sustainable agriculture at the UCSC Center for Agroecology and Sustainable Food Systems.  That was where Mike met his good friend and current business partner, John Vars.  Mike moved back east in 2004, accepting a two-year managerial position at a small farm on the coast south of Boston, Holly Hill Farm.  In 2006, Mike met Teresa at a Farming Conference in Pacific Grove, CA.  They ran a small diverse farm together in Santa Cruz until January of 2008.  That same year, he and Teresa partnered with John Vars to create a whole new farming operation built from scratch on a shoestring budget, big dreams and a lot of sore muscles – Fifth Crow Farm.  Today, Mike and Teresa are married with a son, Charles Oakley Irving and a daughter, Eleanor Joyce. 
Teresa Kurtak was born to entomologist parents in Cote d'Ivoire, where she spent her early childhood. From West Africa she moved to a small town in Eastern Washington, where the family started and ran a cattle ranch and homestead farm for 17 years. She studied Sociology and Fine Arts as an undergrad, running an edible landscaping business on the side.  In 2006 she did the UCSC Farm & Garden Apprenticeship.  From there she went on to work for the Ecological Farming Association, leaving the position to pursue graduate work with the aim of furthering her interest in food and ag related policy and non-profit work.   Teresa has a masters in Social Documentary from UCSC, though in between she was side tracked (or perhaps put on track) when she met her now husband, Mike Irving at the Eco-Farm Conference, spending a season running a small farm with him in Santa Cruz.  Her academic work focused on West African food and its place in food security.  Though she still would like to dabble in academia at some point, she is thrilled to have found work that allows her love of plants, food, and people to come together. Turns out there's really nothing else that comes close to being as satisfying as being a farmer.  She and her husband are the proud parents of Charles Oakley Irving, born March 1, 2015 and Eleanor Joyce, born February 23, 2017.
John Vars is a graduate of Brown University in Geology and Latin American Studies, where through an awareness of environmental and development issues, he developed a profound interest in sustainable agriculture.  He studied organic farming practices at the UCSC Center for Agroecology and Sustainable Food Systems (CASFS) for two years. He managed Green Oaks Creek Farm near Ano Nuevo in 2004 and 2005.  He went on to manage the farm at the Esalen Institute for two seasons, teaching the basics of organic farming to dozens of interns, before starting Fifth Crow Farm.    John is fluent in Spanish and loves working with the Fifth Crow's growing crew of Spanish speakers.  He also enjoys the opportunity to mentor the young people who have come to Fifth Crow Farm in hopes of one day starting their own farm business.  John and his wife Maggi are kept busy when not on the farm with their small children; Naima Hope Vars, born March 1, 2015 and Bodhi Isaiah, born May 23, 2018.
Meet the Crew
There are a lot of people who dedicate the majority of their waking hours to the farm. Though we don't have bio's and photos up for everyone, we know and are grateful for not only our paid employees, but the generous support of our families, fellow farmers and mentors, neighbors, and friends without whom our farm would not be the success that it is.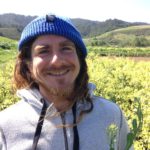 Luke Estrella, Farmers' Marketeer Extraordinaire/on farm crew.  Luke was born on the magical 27th day of June 1983. He loves farming and has been gardening since the age of 7. His favorite plants to grow are arugula, mizuna, tomatoes, and savory herbs. On his days off you can find him surfing or rock/shell hunting up HWY 1 just north of Santa Cruz, mushroom foraging in the woods, or jamming on the ukulele under the sun. He loves working with Fifth Crow because "the veggies are just as happy as the people farming them." Luke is our awesome CSA delivery driver and lead marketeer at our Saturday San Mateo market and at our Sunday Campbell market. If you ever have any questions about a veggie and/or how to cook them he's your guy!
Raul Ruiz, Crew Leader (bio to come soon)
Esteban Martinez-Antonio, Irrigation Manager (pic to come soon). Esteban is 25 years old and started working at Fifth Crow Farm in 2013. He manages all the irrigation, helps with harvesting, and he helps out in anyway he can around the farm. You can see him pedaling around on his bike between fields switching water over or walking with multiple 30 foot long pipes delicately balanced on each shoulder. He always has a smile on his face and he likes working at Fifth Crow Farm because "we all get along well with one another."
Lina Martinez-Lopez, Greenhouse Propagation & Egg Distribution Manager (bio to come soon)
Lucas Hill. Lucas is a first generation farmer, fermentation/preservation enthusiast, and sourdough baker. He developed an interest for food and farming, which grew into a passion, while a student at UC Davis. He graduated in 2015 with a B.S. in Sustainable Agriculture and Food Systems, and went on to teach and manage a garden at Calaveras High School while serving with FoodCorps. Lucas apprenticed for two seasons (2017 and 2018) at the Center for Agroecology and Sustainable Food Systems (CASFS), and is thrilled to continue farming on the coast. Lucas enjoys reading science fiction, trail running, and sharing meals with friends. 
Sammie Raymundo, CSA Manager
Born and raised a Bay Area native in the tiny town of Benicia, CA. Graduated from San Francisco State University with a BA – Art History and a minor in Classic Studies (Archaeology). Before joining Fifth Crow Farm she worked as the Customer Experience Manager for a San Francisco brewery. During that time she was exposed to many great chefs and restaurants which sparked her interested in finding out more about where our food comes from and a want to celebrate our farmers! Other interests include (but are not limited to) mountain biking, rollerblading, camping and laughing. She looks forward to meeting you at your local farmers market!
Angel Reynoso, Farm Intern. Angel comes from the food industry and spent the last few years helping manage a restaurant in San Diego. She's a big time plant lover and comes from a family of farmers. While at Fifth Crow she is looking forward expanding her knowledge about organic farming. When she's not harvesting or assisting with our CSA you can find her at your local farmers market. If you see her out there, she loves to hear all about what creations you come up with using your market finds. Be sure to say "Hi!" if you see her out at the market!
Meet the Marketeers
While most of our on-farm employees work at our farmers markets we do have a lot of people who give up their weekends to work at our markets around the peninsula and in San Francisco.
Sun Nguyen was born in Dusseldorf, Germany and raised in the bustling city center of San Francisco. Since graduating with a degree in Business and working at many nonprofits, she has found her passion as a young change maker supporting a thriving local food system. After volunteering at an urban farm in San Diego and traveling to Kenya to work with an NGO food hub, she returned to San Francisco to continue developing her skills and broadening her perspective. Upon her return she has completed a Permaculture Design Internship, taught a cooking class to SF youth, and completed an educational farm internship with Green String Farm. Sun is thrilled to be a part of the Fifth Crow Farm team and excited to continue working towards community resilience through responsible ecological and economical practices.
Seasonal Crews of Past Years
Fifth Crow farm Crew 2016: Back row (left to right): Andy, Laura, Jenna, Tyler, Kevin, Darin, (foreground) Teresa, Emily L., Sun, Pickle, Brian, Ramiro G. & daughter (foreground), Porfirio (foreground), Paul, Juan Carmelo & family Front rows (left to right): Katie, Luke, Steven, Charlie, Mike, Veronica, Casey, Emily S., John & Maggi (foreground), Ellen, Esteban Not pictured from this seasons crew: Ali, Raul, Lina, Gabby, Victor, Ramiro M.L., Licha, Erika, Elia, Ramiro, Elvia, & Don Gallo.
Fifth Crow Crew 2013 (Left to Right): Raul, Esteban, Mike, Teresa, John (in foreground), Juan Carmelo, Gabby, Christopher, Lina, Orlando (foreground), Antonio, Licha, Ronny (foreground), Presentacion, and Josephina (foreground)
Fifth Crow Farm Crew 2012 (left to right): John, Mike, Collin, Teresa (foreground), Annora, Matt, Rafe, Annie